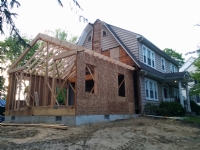 Dear Friends,
Two years ago we purchased a wonderful property right on Main Street in Medford. 74 South Main Street became our Chabad House and a permanent Jewish presence in town.
It has been amazing to see so many Jews connecting to their heritage, joining classes, programs and services.
The time has come to expand and upgrade our Chabad House to accommodate our growth. 

We are pleased to say that the construction has already begun!
The plan is to enlarge our multipurpose room, install a new HVAC system, update all windows, doors and lighting, build a deck, add a new ADA compliant restroom and install a high tech security system.
Chabad in Medford is a financially independent organization. Most of our operating budget has always been raised right in the local community.
By making a donation you are making a sound investment in the future of our people, an investment that reaps rewards for years to come.
Thank you for your partnership!
Sincerely, 

Rabbi Yitzchok Kahan
Chabad in Medford
Director